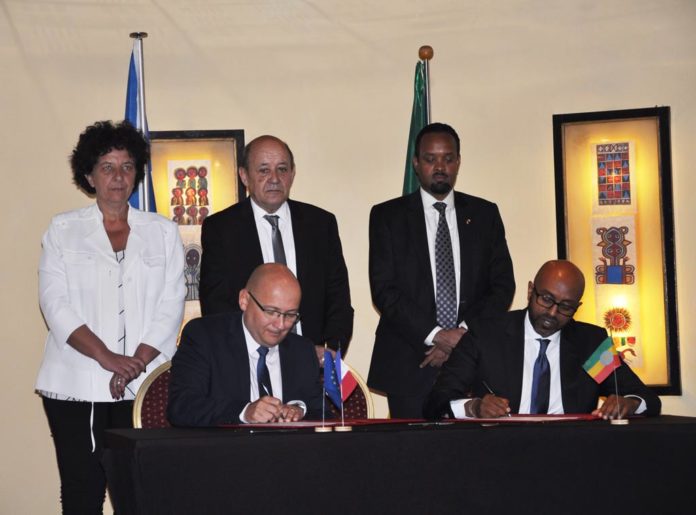 Bolloré Transport & Logistics signed with CLS Logistics, its partner for over 11 years, a Memorandum of Understanding to create a joint-venture. The signing took place in Addis Abeba in the presence of Jean-Yves Le Drian, Minister for Europe and Foreign Affairs. Already supplying transit and logistics services in Ethiopia, Bolloré Transport & Logistics and CLS aim to offer their customers dedicated services meeting the highest international standards. More broadly, they aim to improve the supply chain of strategic sectors in the country such as textiles, coffee, industrial projects and infrastructure following the partial opening of the logistics sector in Ethiopia.
As part of this agreement, the joint-venture plans to invest 15 million euros to build a new, fully secure and modern logistics hub. The project involves the construction of 12,000 m² of multi-activity warehouses (textile, consolidation/deconsolidation, coffee processing, container yard, etc.) on a 5-hectare site in the initial phase.
With its experience in port concessions and dry ports in Africa, Bolloré Transport & Logistics also intends to support the Ethiopian authorities in the modernization and development of dry ports, and in particular that of Modjo, in order to position it as one of the main logistics hubs of East Africa.
« This new agreement will enable us to consolidate our logistics offer in Ethiopia, but it also reflects our desire to make a long-term commitment to strengthen the national logistics sector through structuring investments, a transfer of know-how. with the creation of 300 local jobs and the setting up of complementary services. » said Patrick Gerenthon, Cluster Manager Horn of Africa, Bolloré Transport & Logistics.