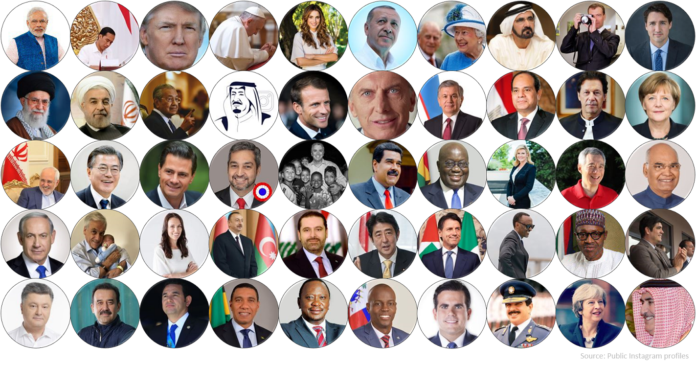 The social network Instagram is increasingly adopted by world leaders. A study by the US communication agency BCW entitled « World Leaders on Instagram » tends to demonstrate this.
The 2018 edition of the study, published on December 4, shows that 156 of the 193 UN member states have an official Instagram account, 16 more than in the previous study. And 92 heads of state, 48 heads of government and 36 foreign ministers have personal accounts on the social network.
« Instagram has become the fastest growing social media network among world leaders, governments and foreign ministers. This is the third most-used social media platform after Twitter and Facebook, with 81% of the 193 UN member states active on the platform, « the study said.
As of October 1, 2018, these accounts had a total number of 98.3 million followers and posted 98,372 messages in the past 12 months. These messages generated a total of 860.4 million interactions (comments and shares), « 162 million (23%) more than the total number of Facebook interactions over the same period, » said Chad Latz, director of innovation at BCW.
Indian Prime Minister Narendra Modi is the most followed leader on the network with 14.8 million followers, followed closely by Indonesian President Joko Widodo with 12.2 million people. The president of the United States, Donald Trump, comes in third place with 10 million people who follow him on his account. Then come Pope Francis (5.7 million people), Turkish President Recep Tayyip Erdoğan and the White House account, each with more than 4 million followers.
On the continent, Ghanaian President Nana Akufo-Addo is the most followed sub-Saharan leader on the Instagram platform, with 431,000 followers, far ahead of Rwandan President Paul Kagame and Nigerian President Muhammadu Buhari, each of whom has 160 followers. 000 followers.
« Instagram is not the most appropriate social network to pass political statements of great importance, but Instagram Stories now seems to be the secondary channel of digital diplomacy, where leaders meet, greet and tag, « notes Chad Latz.