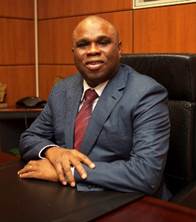 The African Export-Import Bank (Afreximbank) hasreleased its unaudited financial statements for the half-year period ended 30 June 2018, showing gross revenue of $343 million.
The figure represents a $21 million increase over the gross revenue for the same period in 2017.
The results, released by the Bank in Cairo today, attributed the higher gross revenue to a significant increase in fee income by 119 per cent while interest andsimilar income recorded a 2 per cent growth compared to prior year performance.
The Bank's attributable earnings over the six months also amounted to $110 million, beating the budget by 34 per cent.
The key profitability ratios equally came in well above budget, with the return on the Bank's average shareholders' equity (ROAE) standing at 10 per cent, compared to the budget: of 8.08 per cent, and the return on the average assets (ROAA) at 1.88 per cent as against the budget of 1.57 per cent.
Other key figures from the results include:
·         Interest and similar income – $314.81 million;
·         Net interest margin – 3.17%;
·         Net fee and commission income – 23 million;
·         Operating expenses – 23.04 million
·         Allowance and impairment on loans and advances –  31.95 million;
·         Total assets – $11.52 billion;
·         Total liabilities – $ 9.21 billion;
·         Shareholders' funds – $2.31 billion;
Full details of the abridged unaudited financial statement can be found at the following website:
http://stockexchangeofmauritius.com/downloads/InterimAccounts/16082018afrexim.pdf
—–
Follow us on Twitter: @Afreximbank                 Like us on Facebook:Afreximbank
About Afreximbank: The African Export-Import Bank (Afreximbank) is the foremost pan-African multilateral financial institution devoted to financing and promoting intra- and extra-African trade. The Bank was established in October 1993 by African governments, African private and institutional investors, and non-African investors. Its two basic constitutive documents are the Establishment Agreement, which gives it the status of an international organization, and the Charter, which governs its corporate structure and operations. Since 1994, it has approved about $60 billion in credit facilities for African businesses, including about $8.5 billion in 2017. Afreximbank had total assets of $11.9 billion as at 31 December 2017 and is rated BBB+ (GCR), Baa1 (Moody's), and BBB- (Fitch). The Bank is headquartered in Cairo. For more information, visit: www.afreximbank.com
The contents of this e-mail and of any attachments are confidential and privileged and are intended for the attention and use solely of the addressee(s). The contents do not necessarily represent the official view(s) of the African Export-Import Bank (Afreximbank). In the event that you are not named as an addressee, please notify the sender immediately, permanently delete the e-mail and any attachments, and do not disclose, disseminate, store or circulate either in whole or partial the contents of this e-mail or any attachments. Afreximbank will not accept any liability whatsoever for any loss or damage by reason of viruses affecting this e-mail.